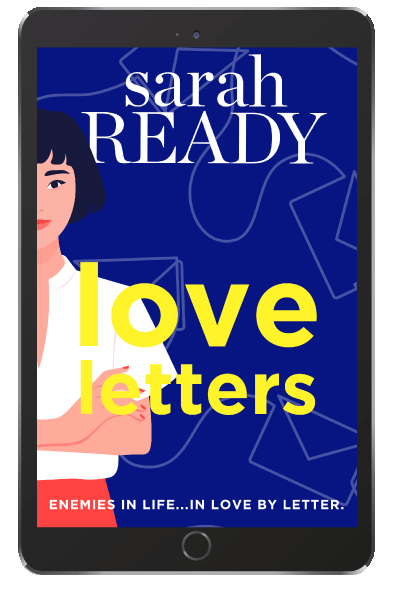 Love Letters : A Novella
Do you love a good hidden identity, enemies to lovers romance?
Enemies in life…in love by letter. For fans of You've Got Mail and The Shop Around the Corner, a novella from romcom author Sarah Ready.
Do you remember those stories where a lonely, single, yet surprisingly attractive woman finds a romantic letter and starts writing a hunky man from the past, only to fall in love?
Yeah. That's not this story.
Believe me. I spend my days archiving stunningly romantic three hundred year old love letters. If it could happen to anyone, it would be me.
But these archived letters have given me the basis for a list of true-love requirements. The man I fall for must be: sensitive, smart, love history, be kind to little old ladies and stray dogs alike, and…be the exact opposite of Corbin Ryan – lover of finance, efficiency, and crushing dreams.
Plenty of people, aka everyone, says my list is unrealistic. I may have agreed, except I'm holding a letter in my hand. I found it in a library book, written by a stranger, and he's everything I've ever said I wanted.
Unlike all the stories, he's real. The only trouble is, the more we write, the more I begin to question, can you really, truly fall in love with a man you've never met? And what happens when you finally write, P.S. Let's Meet.
An enemies to lovers, hidden identity romance in New York City. Love Letters is a 10,000 word novella.
SEE WHAT MY READERS HAVE TO SAY
"The story was simply adorable. I was so invested in a relationship formed solely on love letters and how it all tied together in the end! I also loved how the novella consistently weaved in Hannah's love for history and landmarks from start to finish. If you need a feel good story, definitely worth the read!"
5 Stars
Ginger – Goodreads
A sweet novella where Hannah finds a lovely, loving letter in a local library and writes back to the author though she doesn't know his name. Eventually the letters become love letters and Hannah needs to figure out what happens now.
5 Stars
Nancy – Goodreads
Sarah Ready is becoming a must read for me. This is a nice quick read which makes you smile.
5 Stars
Gemma – Goodreads
Listen to the Audio
Love Letters is a hidden identity romance novella.
DETAILS
First Published: January 24, 2022
Publisher: Swift & Lewis Publishing LLC
ISBN: eBook: 978-1-954007-32-1
Audiobook: 978-1-954007-33-8