By Sarah Ready
My upcoming action adventure romance book Love, Artifacts, and You launches Oct 26th, 2021. Do you want a sneak peek into the story? Check out this extract and pre-order your copy today!
Here is the extract:
"What's the name of her soul mate?" asks Jessie.
Erma shrugs and tosses aside a puzzle piece that doesn't fit.
"What does he look like then? What was he doing?" asks Jessie.
I lean forward. Do I believe her?
"She knows him," says Erma. She looks up at me and there's a hint of compassion in her eyes, like she knows more than she's letting on.
A chill settles over me.
"Is he blond, blue-eyed?" I ask. My voice sounds distant.
She shakes her head no.
"He's wealthy, as wealthy as a king. He owns skyscrapers, an island," Erma says.
One of the older ladies whistles.
Not Andrew. The thought flashes through my mind. Andrew never wanted money or prestige. Although it couldn't be Andrew. He's gone. Dead and gone.
I pull my gaze back up from the floor and look at Miss Erma.
"He has power and status," she says.
I don't want him. Whoever he is, I don't want him.
"He doesn't really sound like my cup of tea," I say. Plus, I don't know anyone that fits this description. I shrug. "Sorry. I'll still look for your treasure though if you like. I could research. Apply for a permit."
In fact, it'd let me do what I love, outside of the tarnish of Castleton, Inc. and the cloud of the past. A way to move on.
"I'll take him," says Petunia. "I'd love an island."
The lady next to her, she looks like her sister, smacks her on the back of her hand. "We'll stay out of this one," she says. "No interfering."
"Good idea," says Jessie.
I give Erma a smile. "Thanks for the welcome. I'm sure your predictions have come true in the past, but I don't think it's likely this time."
"That's what they all say," mutters Wanda. She pushes up her horn-rimmed glasses.
Erma purses her lips and pats a completed chunk of puzzle into the barn. "Maybe so," she says. "Oh, well. Gals, we need to finish this puzzle. I'm headed to my niece's to see the baby in two hours."
Jessie looks at Erma like she's lost her mind.
"Oh, well? Ooo-kay," Jessie says. She turns to me, confusion on her face. Then she shrugs. "Well, anyway. It's lunchtime. Can I take you out for a welcome to Romeo lunch? I could invite some friends for you to meet. I'll bring some books, tell you all about the Lost Treasure, then show you to town hall for your permit or whatever you said you need."
I look back at the table. The ladies all seem engrossed in the puzzle. Me and my supposed soul mate are completely forgotten in favor of a barn puzzle.
"Well, alright," I say to Jessie. "Thank you. That's really nice of you."
Jessie starts to walk toward the exit and I turn to follow. But a stray thought makes me stop and turn back to Erma.
"I'm sorry," I say, "but did you happen to see what my um…soul mate, I guess…what he looks like?"
Erma looks up from the puzzle and gives me a wide smile.
"I did," she says.
"Okay." My throat goes dry.
Erma pauses, watches me.
"What does he look like?" I ask.
"Tall."
I nod. Okay. Tall.
"Thick, black hair," she says.
My heart stops for a moment, then with a hard lurch starts up again.
I can feel the soft memory of thick black hair running through my fingers.
I swallow and try to clear the lump in my throat. "That's it?" I ask.
She shakes her head no, then, "Eyes so dark, they're almost black."
The air rushes from my lungs, hard and painful.
A picture forms in my mind of a black-haired, brown-eyed boy. Now a man.
"He's sun-browned," she says.
I close my eyes, like doing so can block out the vision.
"Not possible," I whisper.
Andrew's dead. We had proof. He died. I would've torn the world apart if I believed otherwise.
Erma continues. "He has a crooked nose and a long scar over his eyebrow."
"Ooh, a pirate," says Petunia.
"Shush," says the lady next to her.
I open my eyes and try to focus on Erma. The room spins around me. Andrew's nose was straight, he didn't have scars. But it's been ten years, he might…he could…
"I…I…" I don't know what I'm trying to say. "Is he in Romeo?" I finally ask.
"Start digging for the Lost Treasure and he will be," Erma says.
I blink and the room stops spinning and comes into focus. All I have to do is start digging and Andrew, if it really is Andrew, will come back to me.
I know what I have to do.
Petunia laughs. "A treasure hunt and a soul mate. What could be better?"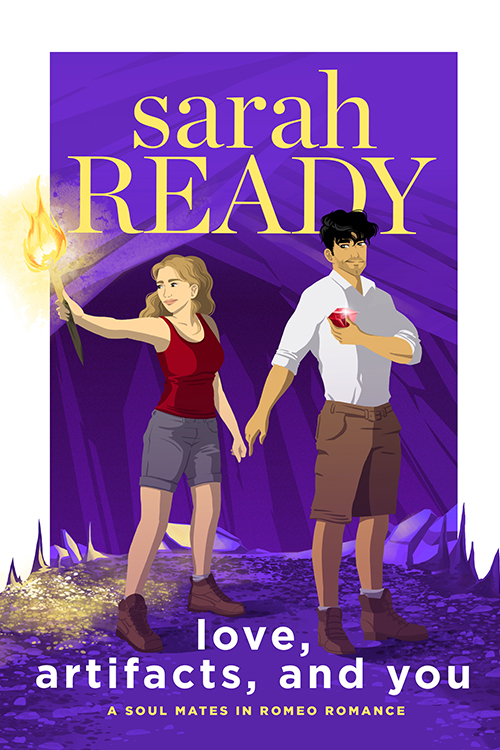 Check out my upcoming action adventure romance book Love, Artifacts, and You – available Oct 26th, 2021.