Ever have one of those dreams where you show up at school and you realize you never put on pants? Well this is not a dream for Gemma and it's a conference call rather than school.
Check out this excerpt from Josh and Gemma Make a Baby below!
---
"Hello?" I manage to garble into the phone.
"Gemma. For goodness sakes. Where are you?"
It takes a moment for me to place who's on the other end of the line. I swing my legs over the side of the bed and set them on the cold parquet floor.
"Lavinia? What is it?" I croak. I really, really need a glass of water. My mouth feels like I gnawed on a cotton ball all night long. I stumble across the room toward the kitchen sink. I startle when I see myself in the wall mirror. I'm in old sweatpants and a bra, my hair is sticking straight out from the side of my head and my mascara is running down my cheeks.
I stop in front of the mirror and give myself a shocked once-over.
"What do you mean 'what is it'?" asks Lavinia.
I wince at the shrillness of her voice.
"The marketing conference call started five minutes ago. They're waiting for you. Ian is waiting for you," she hisses. "Tell me you are outside the building."
Wait, what? What time is it? I squint at the clock on the wall. It's five after ten. Which means…
Oh no. Oh no, no, no.
I'm late for work. And I'm late on a day where Ian is on a conference call that I'm supposed to be on. I've never had a conference call with Ian before. This was my first and biggest opportunity to impress him. I've been preparing for it for weeks. I'm supposed to be leading the call, setting out our new initiative for social media marketing.
Noooo.
I hurry across the apartment to my work bag. "I'm calling in," I say to Lavinia. "I'll be on in two minutes. I'll be right there."
I can almost hear Lavinia "rolling her eyes. But it doesn't matter. I tear my computer out of my bag, set it on my bed and power it up. I crouch in front of it and urge it to load faster. The conference call link is in my work email. I open my email, find the link and click it.
"I'm on the call. Thanks, Lavinia." I hang up my cell and squat in front of my laptop while the screen loads.
The call comes through. On the list of participants I can see the head of the consulting marketing firm, a few of his marketing minions, Lavinia, and Ian.
"Ah, here she is. What did I tell you? Good things come to those who wait." That's Ian, I can tell by his deep, buttery voice, and by the inspirational quote, of course.
"Sorry for the wait," I begin to apologize. But then I stop. Because instead of being a phone call like I thought, it's a video call.
The black screen with a list of names shifts to show the participants, all in little squares showing their faces. They're in business suits and dresses. You know—business attire. The neon green camera light on my laptop flashes. And then the screen on my laptop fills with a picture of me.
Well, not of me exactly.
Since, I'm crouched over my computer, which is propped on my bed, the camera actually shows a grainy image of my breasts.
I take half a second to see the entire horror show unfold in front of me.
My breasts, my bra with the word "juicy" written all over it, the bit of roll around my middle, it's all there, front and center.
My boobs are taking up the entirety of my computer screen.
I do the only thing that any reasonable person would do. I drop to the ground.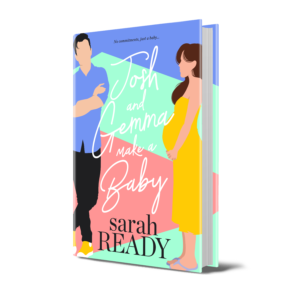 Want to be notified when more Sarah Ready RomCom books are available?
Join my newsletter for updates and insider extras.