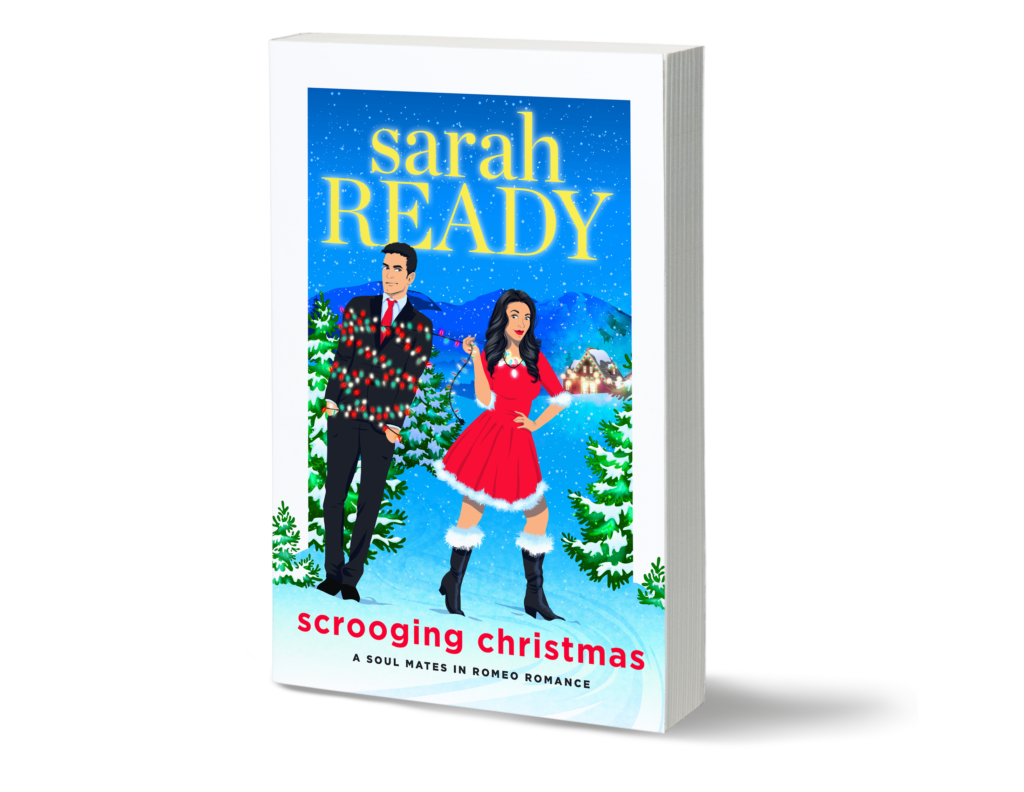 My newest opposites attract Christmas romcom is coming out October 18th, 2022 and I wanted to share another sneak peek of Scrooging Christmas with you.
What would you do with a Scrooge? When Christmas-loving Natalie Fiorre goes head-to-head with perpetual Scrooge Gabe Cavanaugh all bets are off. Opposites clash over holiday cheer in this cheeky, Christmas romcom full of laughter and steam – the perfect holiday romance read.
Check out this sneak peek of Scrooging Christmas:
---
Sneak peek of opposites attract Christmas romcom Scrooging Christmas
Gabe:
"What's your name?" I ask, and when I do the woman looks at me with wide eyes, as if she'd forgotten I was here. 
"I thought you knew."
"Marley?" I ask, thinking of her obsession with Scrooge.
"No."
She gives a short huff of laughter and walks back to where I'm standing. She reaches down to pull off her fur-lined boots, dropping them beneath the bench.
"Not Marley," I say.
I stretch my hands, moving my fingers, letting the painful pricks of circulation come back.
"But I bet it's something Christmas related. All you nutters who love Christmas always have those kind of names. How about…Holly?"
She lifts an eyebrow. "Do you want me to tell you my name?"
"No, I'm going to guess it," I stare at her, take in her bright eyes, her curves, how she seems to fit perfectly in this homey rustic cabin. "Noelle."
She shakes her head.
"Mary?"
No.
"Ivy?"
Nope.
"Fruitcake?"
She snorts.
"Carol? Chris? Star? Rudolph?"
With each guess she shakes her head, and when I say Rudolph she actually lets out a strangled laugh.
"No. Wow. My parents wouldn't saddle me with the name Rudolph. They actually like me."
I look across the living room at the pictures on the mantle. There's a family photo from decades ago, a dad in a baggy sweater and wire-framed glasses, a mom in a denim dress, and a little girl hugging her younger brother while they all beam at the camera. They're all standing in front of a scraggly Christmas tree wrapped in paper chains.
"Hmm. I wonder what your mom and dad would think of your descent into crime." I frown at the picture of the happy family, then say in a mournful tone, "She was such a sweet little girl, kept to herself, nice to the neighbors, no one would've guessed what a devious heart lay beneath that Christmas façade."
She wags her finger at me. "Okay. Yes. Some might say this is wrong."
I give her a disbelieving look.
She grumbles, "But others might say that this is fate. Destiny. Christmas providence."
I shake my head. "No one would say that."
"Some might."
"No they wouldn't."
"Maybe two or three."
I shake my head. "No."
She sighs. "Fine. They wouldn't…or they might. My name is Natalie. Nice to meet you." She holds out her hand.
I let out a laugh. "Natalie. Which means Christmas. I forgot that one."
---
Did you love this sneak peek of my opposites attract Christmas romcom Scrooging Christmas?
to find out what happens October 18th, 2022!