Want to snag a paperback copy of Love Not at First Sight for yourself? I'm so excited that W. W. Crown is doing a PAPERBACK GIVEAWAY of 5 COPIES on Goodreads through July 18th!
?To enter ?
? Click here:
https://www.goodreads.com/giveaway/show/327122-love-not-at-first-sight
Good luck!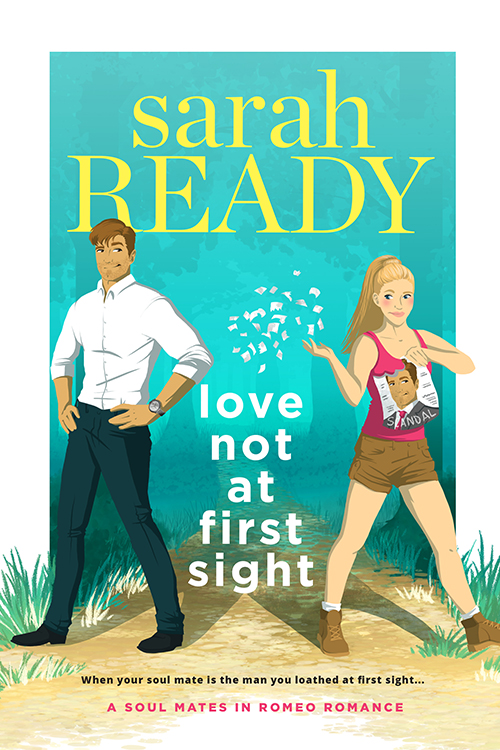 When your soul mate is the man you loathed at first sight…Book Two in Sarah Ready's Soul Mates in Romeo series sparkles with tension and a delicious helping of swoon-worthy romance.
Veronica Diaz loves her career, her friends and the great outdoors – she has no room in her life for men. In fact, she knows there are only two types of men in the world: players and wanna-be players and she wants nothing to do with any of them.
So when a psychic informs Veronica that her fated soul mate is Frederick Knight "The King of Players," Veronica does what any sensible woman would do – she runs.
A twist of fate lands Veronica in the depths of a pitch-black cave system with a man she's never met and can't see. As Veronica and Sam struggle to survive they open up, share their secrets, and risk their lives for each other. Soon Veronica starts to wonder if maybe not all men are players, and maybe she can trust Sam enough to fall in love.
The only problem: Sam is actually Frederick Knight. The man Veronica swore she'd never, ever, ever love.
In fact, she loathed him at first sight.
And if they make it out of the cave alive, and Veronica sees him for the first time, she'll loathe him again. Won't she?
But maybe, sometimes you can only see who someone really is when you can't see them at all? And maybe you can only fall in love when it's not at first sight?
"This will easily and unequivocally be one of your top reads this year." By Bookaddict (Chasing Romeo, Book 1 in the Soul Mates in Romeo Series)