Do you love a good role play? Then check out this sneak peek of my next book! Married by Sunday is book 5 in my Soul Mates in Romeo Romance series and it's a must read! If you love funny romcom's you have to check out this sneak peek of Married by Sunday!
Click here to pre-order Married by Sunday.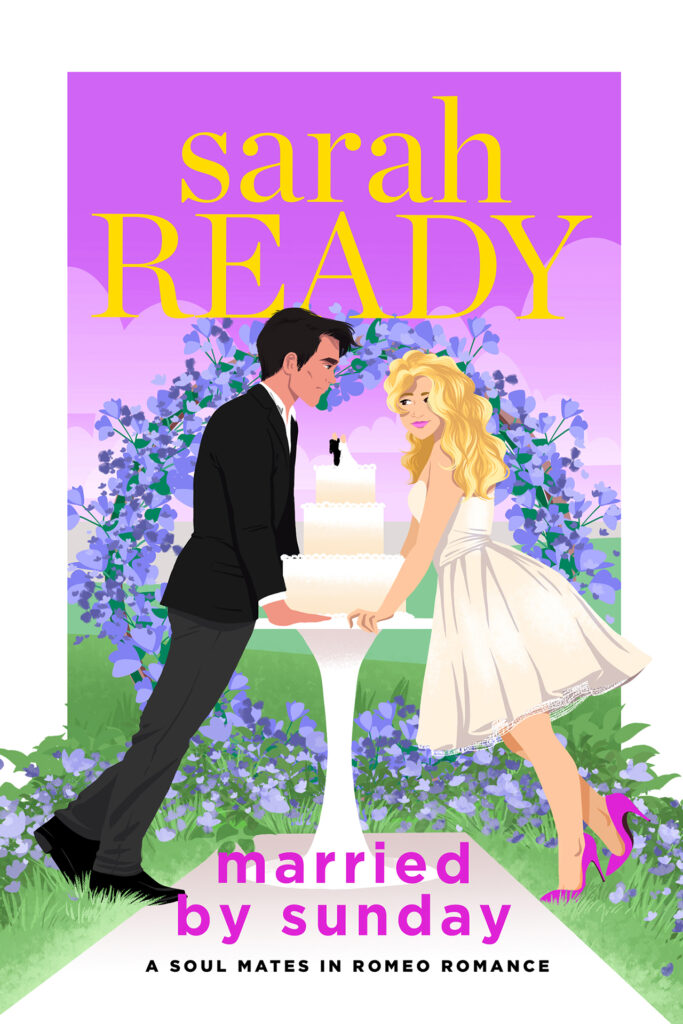 ---
"I'm gonna be cruel to be kind, Nathaniel. Gertrude's gone. She's been wooed by some stallion. She's starry-eyed, head over heels in love with another man. The sooner you accept it, the better. You should move on."
Unbelievable.
"She met him less than a day ago," I say through gritted teeth. "She can't possibly be in love. It's a momentary lapse of judgment. As soon as she sees me, she'll realize her mistake and come home. With me."
"Oookay," Izzy says, completely unconvinced. "What does the stallion do?"
I narrow my eyes. "I don't know."
"What's his name?"
That I do know.
"Raphael," I growl.
She snorts. "You're screwed."
I don't like how confident she sounds. "What's that supposed to mean?"
"Do you know how a man named Raphael makes love?" she asks, her voice liquid and smoky.
"Certainly not," I say, realizing as I do that I sound stiff and pompous.
"Well, I do. I've met plenty of Raphaels. Metaphorically. You're toast, buddy. You can't compete."
"I have no idea what you're talking about. I'll have you know, I'm about to be made partner, I have an MBA from—"
"La-di-da. Super boring, blah blah blah. Doesn't matter." She pulls on my arm to stop me from walking and then tugs me around. "Let me show you. I'll be Raphael. You be Gertrude."
"Are you kidding me?"
"Humor me," she says.
"Fine." I cross my arms over my chest and wait for Izzy to work her Raphael magic.
I'm not expecting anything drastic, so it stuns me when suddenly, she changes. One second she's mischievous and sprite-like, the next she's a smoky-eyed sex goddess. She drags her pointer finger down my arm and looks up at me from beneath dark, feathery eyelashes. There's a soulful depth to her eyes. Her skin glows in the evening light. Her lips part, just a fraction and the pink tip of her tongue darts out. I focus on her lips. Her cool fingers trail down my arm and then stop at the pulse point of my wrist.
What the…
"Where have you been? I prayed for you. I've been waiting for you," she says in a broken whisper.
For some reason, my chest feels tight and my head feels muddled. "You…you have?" I've lost track of the conversation.
I swear there's a tear glistening at the corner of her eye. I want to reach up and wipe it away.
"I didn't think I could go on until I met you," she whispers. Then she sets her other hand on my chest, right on top of my heart. The look she gives me, the heat coming from her hand, and the air between us, thick and full of promise, I want…I want to lean down and kiss her.
"Nathaniel," she breathes my name, there's a hitch in her voice and suddenly I'm picturing rumpled bedsheets and tangled limbs.
"Izzy?"
"Hmmm?" She looks up at me, her lips soft and welcoming.
Holy…
Suddenly, she shakes her head and her features snap back to mischievous imp. She steps away from me and says with a saucy smile, "And that is how a Raphael makes love."
Thank you for reading another sneak peek of Married by Sunday!