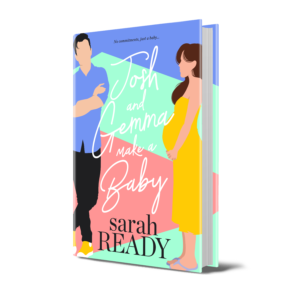 My latest romcom Josh and Gemma Make a Baby launched January 25th, 2022 and I wanted to share a third excerpt of the production room scene with you. If you are following me on social media, you may have seen the video trailer of "The Production Room" scene. If you haven't seen it, go over to
https://www.instagram.com/sarahreadyauthor/
or
https://www.tiktok.com/@sarahreadyauthor
to check it out!
Here is an excerpt of Josh and Gemma Make a Baby and an introduction to Josh:
---
The production room scene from Josh and Gemma Make a Baby
I sit in the lobby while I wait for Josh to finish up in "The Production Room."
I cross and uncross my legs, shifting impatiently as I glance at the clock. What's taking so long? He's been back there at least fifteen minutes.
After the ultrasound, Dr. Ingraham ran over my bloodwork and urine. Everything looked good, my AMH, my thyroid, my STD tests, everything was normal. Josh had his blood taken for STDs and then a nurse with a pixie cut and sequined glasses led him away to produce a sample.
I glance at the clock. That was seventeen minutes ago.
Two couples have been called to the back.
There are only three other couples left in the room and a woman sitting by herself in the corner. She has a magazine held in front of her, and she's wearing a wig, a baseball hat and huge sunglasses. In New York City, the only thing that can mean is she's either a fugitive from justice, or she's anywhere from mildly to wildly famous and doesn't want to be spotted by the autograph-seeking masses around her.
I try to ignore everyone. I tap my foot and stare at the big Georgia O'Keeffe painting on the far wall.
When I've nearly decided that the painting is one hundred percent definitely a flower, not part of the female anatomy like I thought last time, my phone buzzes.
I open my purse and look at the screen.
It's a text from Josh.
Josh: I'm in the production room.
I stare at the phone, mystified as to what I'm supposed to say to that.
Gemma: Okay?
Josh texts a picture. It's of a room. I'm guessing it's "The Production Room." Unfortunately, it's also the saddest, most depressing-looking room I've ever seen. It's about six foot by four foot. The walls are stark white and the floor is old gray tile. There's one of those wall collection metal shelves for the sample jar, a tissue dispenser in the wall, a garbage can, and printed instructions taped to the wall. That's it. No color, no decoration, no dirty magazines, no flat screen TV playing porn to get a guy in the mood. Nothing.
I text Josh back.
Gemma: Is that the production room?
Josh: Yeah…
I wait. Josh is typing another message.
When it comes through I stare at my phone in surprise.
Josh: It's not working.
I look around the waiting room, and I'm sort of surprised that no one is staring at me in shock. Did Josh Lewenthal just tell me that he can't produce a sample?
The news plays on a muted TV near the scheduling desk. All the other couples are either watching it, looking at their phones, or reading a magazine. No one is paying me any attention. I quickly type back.
Gemma: What's not working?
Josh: It's a lot of pressure. I need some inspiration. This room sucks.
I blow out a breath.
I mean, I get what he's saying. It would be hard to get in the mood in a room that looks like a Russian prison cell. The tissue is for you to weep into.
I shift back into my chair and try to think of a solution. Ah, got it.
Gemma: Look up porn on your phone.
I blush and pull at the winter scarf around my neck. I can't believe I just wrote that.
Josh: I can't believe you just wrote that.
Ha. I write him back.
Gemma: Well?
Josh: It's not working. Send me a pic of some skin.
Excuse me? Did he just ask me to send him a dirty picture? Of myself?
Gemma: No way.
Josh: Come on. I need help.
I close my eyes. Fine. If you want something bad enough, you'll do whatever it takes to get it, even text dirty pics to "The Production Room."
I stand up and stride to the desk.
"Can I have the key to the bathroom please?"
The same scheduler that was completely disinterested in me last week tosses the key at me.
"Thanks," I mumble, terrified that she somehow has mind-reading powers and knows exactly what I'm about to do.
I shut the bathroom door behind me. Surprisingly, the bathroom's really clean. They must've actually sent someone over to clean it after Dr. Ingraham called. Huh.
My phone buzzes again.
Josh: They're knocking on the door, Gemma. The pressure is a bit much here. Skin?
I snort. Then I try to think of the least embarrassing place I can take a picture of that may elicit some sort of reaction.
Ah, got it.
I lift my leg up and set my boot on the toilet. Then I pull up my pants and take a snapshot of my calf. I hit send.
I yank my pantleg down and wait for Josh's reply.
Josh: Seriously?
I smile. Hey, I tried.
What else, what else?
Well, no one in the history of ever, complained about my breasts, soooo.
I pull off my winter coat, lift up my sweater over my head, dip my camisole low and take a cockeyed cleavage shot of my breasts. As I try to pull my sweater back down I stumble over the trash can and fall back onto the toilet. I hit with a thud and the trash can rattles, making a racket.
I wait a second. My heart beating hard.
There's a knock on the door.
"You alright in there?"
Oh jeez. It's the disinterested scheduler.
"Good. Fine. Just…busy."
Oh lordy. Busy?
I hit send on the photo of my boobs. Then I try to pull myself back together.
My phone vibrates.
Josh: Not a breast man.
Are you kidding me? Not a breast man? I sent him a deep cleavage shot that should have soared him into boner territory.
Gemma: Then what?
I scowl down at the phone.
There's another knock on the bathroom door.
"Just a minute," I call. "I'm busy in here!"
I stare at my phone as I wait for Josh to reply.
"Come on…"
I pace back and forth in the small space. Finally, Josh starts to text. Deletes it. Starts to text again, deletes it.
Gemma: Come on. What?
Finally his text comes through.
Josh: Just send a shot of your bare shoulders, or your back.
What? What the weird? Fine.
I pull off my coat and scarf, strip off my sweater, camisole, and bra, and stand with my bare back to the mirror. I look behind me. My hair is down and falls over my shoulders in a straight dark line. My shoulders are narrow, and my back shows the exaggerated curve of my figure. I never noticed or thought about it before, but looking at my smooth skin, the gentle flare of my hips and the curve of my spine, there's something strangely erotic about a woman's bare back. I take a shuddering breath. My nipples go hard from the cold air. I look over my shoulder at myself, there's a strange look in my eyes. I don't think about it. Instead, I lift up my camera, and snap a shot of my back in the mirror.
It's a half-blurry shot, my head is turned away, and my back is exposed. You can just barely see the edges of my breast under my lifted arm. It's almost…erotic.
I stare at the photo for a moment, and then I hit send.
---
Did you love this sneak peek of Josh and Gemma Make a Baby?
to find out what happens next!