My upcoming release
is now up for pre-order on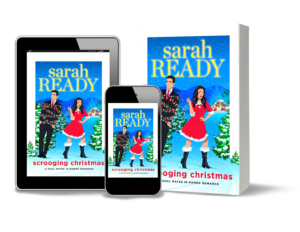 If you have a Nook eReader pre-order on Barnes and Noble today for only $0.99 and only for a limited time!
---
WHAT WOULD YOU DO WITH A SCROOGE?
Professional holiday decorator Natalie Fiorre loves tinsel, gingerbread, and the magic of Christmas. She believes there isn't anything in the world that a dash of Christmas Spirit can't fix—until she meets Gabe.
Perpetual Scrooge Gabe Cavanaugh loathes candy canes, jingle bells, and all things merry and bright. He believes Christmas is the worst time of year.
So when Miss Christmas and Mr. Scrooge meet, sparks fly.
When Gabe threatens to evict Natalie and her neighbors on Christmas she does what any right-minded Christmas-lover would do…
Natalie has two days to stop the evictions and help Gabe discover the magic of Christmas, but a lot can go wrong in two days, and in Romeo, the soul mate capital, there's another kind of magic in the air.
A delightfully cheeky rom com romp through the holidays, Scrooging Christmas is Book Seven in the Soul Mates in Romeo Romance Series by Sarah Ready.
"A fun and sweet love story…"Kirkus Reviews on Chasing Romeo
---
Scrooging Christmas will be released on October 18th, 2022.
Pre-order on Barnes and Noble today for the special $0.99 deal.