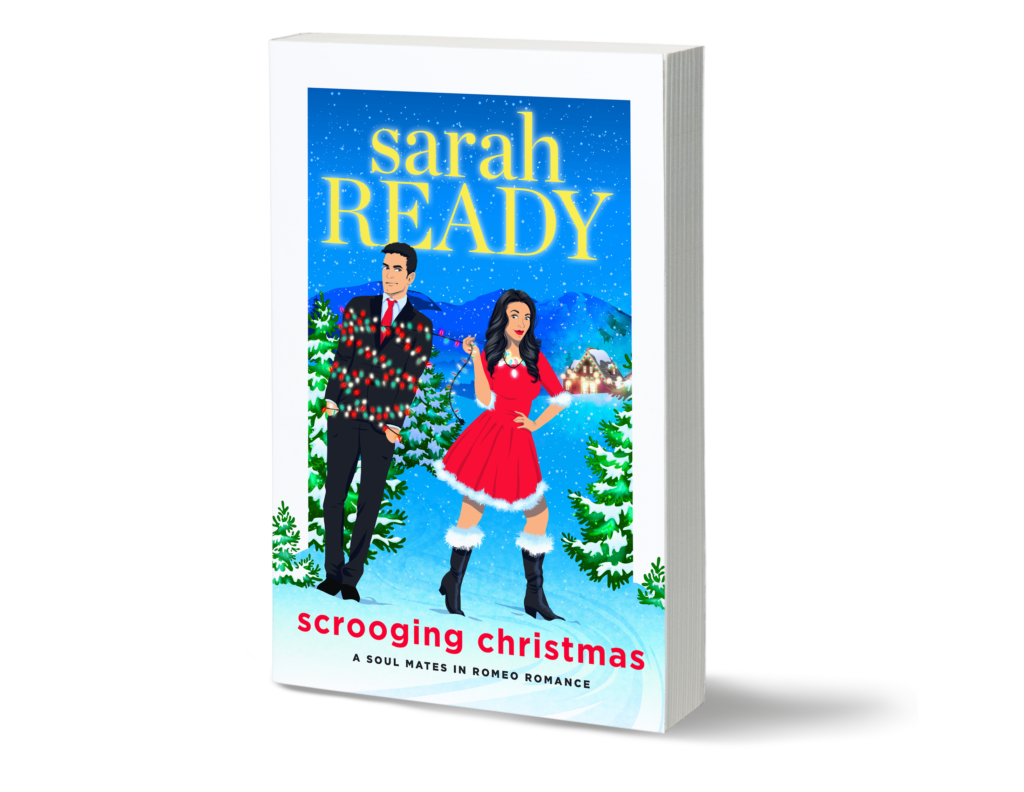 When you were a kid, did you ever shake the present to try and guess what it was? Well if you shake the present this year you will find it is full of laugh out loud moments and a sexy yule log romance!
My newest Christmas romcom is coming out October 18th, 2022 and I wanted to share a sneak peek of Scrooging Christmas with you.
What would you do with a Scrooge? When Christmas-loving Natalie Fiorre goes head-to-head with perpetual Scrooge Gabe Cavanaugh all bets are off. Opposites clash over holiday cheer in this cheeky, Christmas romcom full of laughter and steam – the perfect holiday romance read.
Check out this sneak peek of Scrooging Christmas:
---
Shake the present and get a sneak peek of Scrooging Christmas
"So today we're going to cut down a Christmas tree and decorate it."
I shake my head, "No we're not."
She stares at me, and I'm pretty certain she's surprised at my resistance.
The coffee has slowed to a drip, so I take down two mugs and pour the steaming black liquid, enjoying the rich smell. I shove one across the counter toward her and take a long drink of the hot liquid.
"Just like that?" she asks, frowning at me.
"Just like what?"
"No. Just like that?"
I take another sip. It's good coffee, then say, "Of course. What are you going to do? Make me?"
She pulls the pan off the stove and holds it high in the air. "Here's the deal. You come Christmas tree cutting with me and you get delicious sausage and pancakes. You don't…and you get…you get…"
"The lotion?" I ask straight-faced.
Apparently she's not a fan of horror, because she waves that away.
"No. Last year's fruitcake. It's in the cupboard, soaked in rum. And lemme tell you. It's fluorescent green and goopy brown. There are oozy bits. And when you take it out of the tin, it makes a squishy splooshy noise. Like it's exhaling."
I stare at her, appalled at her fruitcake description. Maybe she is a fan of horror. "This is a real thing? A breathing fruitcake?"
"Of course. You should see the one we're saving from 2012. Actually, maybe I'll give that one to you." She shakes the pan at me, the sausage smell drifting over. "You decide. Sausages and pancakes. Or respirating fruitcake."
"You are diabolical."
There's no way she knows that I can only cook two things: toast and microwave meals. And I didn't see any bread or microwaveables in the pantry. So…am I actually at her mercy?
I consider the pan of sausages, the maple scent drifting across the kitchen. It's a homey smell, sweet and savory, matching the warm wood cabinets and the butcher block counters. My stomach lets out a growl, reminding me of how hungry I am.
I haven't eaten since yesterday's lunch. A microwave noodle bowl that I half-ate while going through emails and making calls.
I weigh the options. Go hungry. Go Christmas. Go hungry. Go Christmas.
"Fine. I'll kill a tree with you then decorate its carcass in lights and shiny balls." I take the plate from the counter and hold it out to her, "Serve it up. Even prisoners get two hots and a cot. Something you'll be learning very soon."
---
Did you love this sneak peek of Scrooging Christmas?
to find out what happens October 18th, 2022!