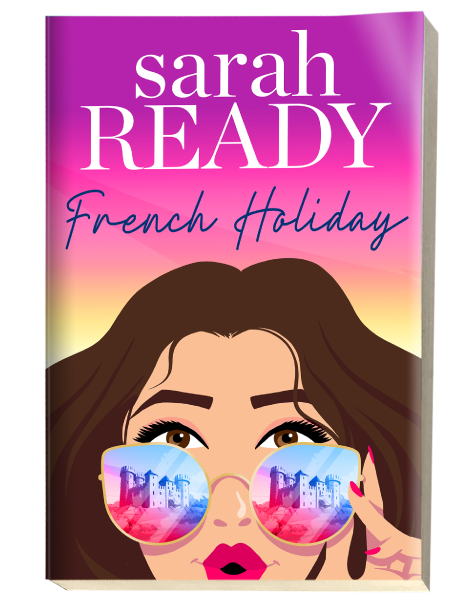 One (crumbling) French castle. Two enemies-at-first-sight. The holiday of a lifetime. 
My latest romcom French Holiday is coming April 26th! It all starts with a wedding…
Check out a sample of my latest romcom French Holiday. Pre-order here.
---
You can do this. Come on, Merry, you can do this. 
It's only thirty-seven steps—I counted them yesterday—down a pink peony-trimmed, silk-runner-laid aisle.
That's not scary.
It's not hard.
It's easy.
You've been walking since you were eleven months old. Mom always exclaimed, "You didn't come out walking Merry, you came out running!"
So. There.
You can do this.
It'll be perfectly painless. There's Leo at the front of the church, looking exactly the same as he did yesterday, and the day before yesterday, and a year ago.
Except today, he's in a black tuxedo, with a single white orchid pinned to his chest. I gave the orchid to him, its subtle cinnamon fragrance drifting between us, as I promised him that I was happy.
Because of course I am. Of course I am.
And he looks happy. Some grooms are nervous, they'll have sweat beading their foreheads, or their eyes will dart nervously from the aisle to the priest and back again, and some will look downright bilious.
But not Leo.
His shoulders are back, his chin is up, and when he sees me staring over the jam-packed pews, he flashes me a bright smile and winks.
Dang it.
I quickly take a step back into the safety of the shadowed vestibule.
Oh no. Oh no.
Can he tell? Does he know? No. He doesn't know.
"You don't like weddings, do you?" Kimmy Fescue asks in her nasally accent, sending a sidelong glance my way.
"What makes you say that?" I ask breezily, smiling brightly at the dim stone church, the soft organ music, and the overwhelming, schizophrenic scent of spicy cologne and the floral perfume of two hundred people mixing together in a small, humid space.
Kimmy looks pointedly at my hands, and I realize that my knuckles are bone white, and I'm gripping my floral-tape-wrapped bouquet of waxy orchids and dizzily fragrant lily of the valley so tightly that I've cut off circulation. I'm not actually certain I can relax my grip—even if I wanted to—so she has a point. I lift a shoulder in acknowledgment.
She leans closer, the puce color of her bridesmaid dress making her look anemic in the gray light. "Do you want to know the secret to surviving weddings?"
I open my eyes wide and take a step closer to hear her whisper. Of course I do. I mean, I'm not desperate. Obviously. But I'd like to hear the secret.
Kimmy is my second-cousin. She grew up in Long Island, had sex when she was fifteen to get "the virginity problem" out of the way, and then went on to enrapture my sister Angela and me with salacious tales of teenage sex and scandal for the next five years.
We lost touch when she became a dental hygienist and moved to Cleveland. But now, here she is. Back for the wedding.
"What?" I ask, certain she'll have the best advice.
It's just like when we were kids, tucked in our sleeping bags in the living room, Kimmy sharing life wisdom like exercises for increasing your breast size (didn't work), how to use hardboiled eggs to practice Frenching (I always ended up eating the egg), and where to find the best knock-off Louis Vuitton purses (sketchy basement apartment, side street in Forest Hills, never went).
She glances over her shoulder, her long fake lashes brushing her round cheeks as she glances at the three groomsmen, all in black tuxedos.
Then she looks back at me, a prurient glint in her eye. "Before the wedding begins, you choose a guy. One of the groomsmen."
"Choose a guy?"
"Yeah. You choose a guy. Then at the reception, drink all the champagne you want, eat all the cake you can, and then have mind-blowing, no holds barred, on the floor, against the wall, in the hallway, in the coat closet, in the bathroom if you're into that…do it a few times, at least three—"
"Three times?"
Kimmy nods, then reaches into her cleavage and pulls out a tube of lipstick. She twists it, the bright, flaming red shining as she smooths it over her lips. "You want some?" She holds the tube out to me.
I shake my head. "No. I'll swell up." I gesture vaguely at my lips.
"Ohhh right. The beetle allergy."
She means carmine.
Not that most people realize it, but a lot of red dye is made from crushed up insects called cochineal. Unfortunately, I'm allergic and whenever I use lipstick with carmine, my mouth gets covered in hives.
It's gross.
Kimmy shrugs, caps the lipstick and shoves the tube back between her breasts. "Anyway. I'm gunning for the tall one, Reggie. He looks like he has stamina. I hear he played basketball in college."
She wiggles her eyebrows.
I wince. Kimmy doesn't know Reggie, but I do. He's a friend, just like the other groomsman is my friend. We're a group. Me, Leo, Reggie, and John. There's no way I'm going to get down and dirty with any of them.
Obviously.
And then, well, there's Noah.
So. No.
Kimmy takes in my expression. "I know, I know, it sounds crazy. But trust me. This is the twelfth bridesmaid dress I've had to wear."
She plucks at the puce-colored silk and draws her lips down in a frown. "By far it's also the most hideous. Listen, everybody knows being a bridesmaid sucks. You get all depressed. Oh, woe is me, I haven't found the love of my life, I'm not the one getting chained in matrimony. Boo hoo. Sob sob. The only way to solve that depression spiral is to drink a tanker of champagne and gorge yourself on a sexy stranger. Trust me, it'll fix you right up."
She nods at my white-knuckled grip on my bouquet.
"Okay." I give a tight smile. I'm not going to gorge myself on a sexy stranger. Perhaps Kimmy doesn't have as good of advice as I remember.
Except for the champagne bit. Maybe I'll drink loads of champagne.
The door to the choir room shuts with a hard snick, and I turn to see Vick, the third bridesmaid, lifting my sister's train.
"Beautiful," I say, smiling, even though I saw Angela only three minutes ago, when I helped her touch up her makeup and gave her a pep talk. But now her veil is down and she looks really, truly like a bride.
I ignore the tightening in my chest. Because suddenly, the ridiculousness of Kimmy's advice, the distraction, all that's gone, and I can't breathe.
It's like a giant green anaconda is squeezing my chest and there's no more air. I can't breathe. I can't…no, that's ridiculous. Of course I can breathe. It's easy. Just suck in a breath.
There. Better.
That tightening is nothing. There's no anaconda. No squeezing. It's heartburn, I'm sure, from the four coffees I've already had today. Getting up at four in the morning to help with hair, flowers, and make-up will do that to you.
There. See.
Breathing.
"Do you think Leo will like it?" Angela asks anxiously for the seventieth time today. And she's asking me, because as everyone knows, I'm Leo's best friend. His buddy, his pal, his BFF, his "one of the guys," his…whatever.
I walk forward and straighten her veil. Then I look into her large, brown eyes—the only feature we have in common—and say cheerily, "He won't like it. He'll love it. He loves you, doesn't he? So how could he not? You're gorgeous."
Looking at her nervous expression, like she's asking for something from me, I'm reminded of when we were kids. I was three when she was born, ready to be a big sister. My parents say that when I met her at the hospital I looked at her blonde fuzzy hair and pink face, and I said, "She looks like a baby angel." So they named her Angela.
She was beautiful from the minute she was born. Not like most babies who take a bit to look like anything other than a wrinkled up alien/peanut. No, she was Gerber baby gorgeous.
For the first years of her life, everyone cooed at her, blew kisses, and random shopkeepers would always offer stickers, or balloons, or extra scoops of ice cream. I was never jealous. I was proud. Everyone loved my sister, but none of them got to love her as much as I did.
I always gave her the biggest piece of cake. I let her go first on the swing. If I wanted to watch a travel documentary but she wanted to see MTV, we watched MTV.
When I was twelve, I babysat Kyle Simmons for an entire summer. He put gum in my hair, wiped his boogers on me, and refused to do anything but play Crazy Eights, over and over and over. But I saved up enough money to buy the bike I'd been lusting after.
I wheeled it home, so happy, so impressed that I had a ten speed with hand brakes and shiny red paint, that at first I didn't see Angela hopping up and down and laughing and then hugging me. It was the day before her birthday, and she thought I'd bought it for her. As a surprise.
I gave her the bike.
For some reason, I'm thinking about that bike now. She discarded it after two months of riding it. It's long forgotten in a dusty corner of our childhood garage, chucked behind the flattened cardboard boxes and cockroach traps.
Angela blinks and waves a hand in front of her face. "Leo does love me, doesn't he?"
Yes.
Yes, he does.
The pastor hurries over, dressed in her formal gear. She has chin-length gray hair, round glasses, and a demeanor that makes you feel like you should be whispering, and probably apologizing for something, although I'm not certain for what.
"All ready, ladies?" she asks.
Of course I'm ready. There's no reason I wouldn't be. There's no reason to feel upset. In fact, I wasn't upset at all. That was an anomaly.
I can do this.
Easy peasy.
The organ shifts into the song I know leads up to the bridal march.
Now that I think on it, I never noticed before how much the bridal march sounds like a funeral dirge. The chords are just the same, a slow, pushing force inexorably plodding forward.
"Yes, we're ready," Angela trills, smiling at us three bridesmaids, lined up in our puce dresses. "Aren't we?"
Kimmy smirks at me, nods knowingly at the groomsmen lining up on the other side of the vestibule, and then gives me a lurid wink.
"Merry? All ready?" Angela asks.
"Absolutely," I tell my sister, the woman who's about to walk down the aisle and marry the love of my life. "Never been readier," I say, which of course is a big, fat, red bike-shaped lie.
---
Want to read more? Check out my upcoming romcom French Holiday on April 26th.