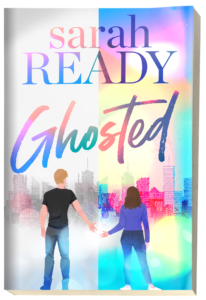 Romance is Dead…
Jillian Nejat is the only dating and relationship expert on the planet who is incapable of speaking to men. If they're living, if they're breathing, it's game over.
With her bank account at zero, her career a dumpster fire, and her dating life in a ten-year slump, she moves into a tiny, dirt-cheap NYC apartment.
Unfortunately, the apartment is already occupied.
Daniel (no-last-name) is a sexy, shirtless, six-pack wielding heartthrob who is also…dead.
He isn't living. He isn't breathing. He's a ghost. He's also the only man on the planet that Jillian can talk to.
Soon, Daniel's convinced that it's his afterlife mission to resurrect Jillian's love life. He knows, if he helps her fall in love then he can move on. Jillian agrees. The last thing she needs is a Lothario ghost haunting her living room.
But then, one practice date leads to another, one confession leads to more, and suddenly Jillian fears she's falling for the one man she can never have. 
Ghosted is out now and you don't want to miss it!
Find it at all your favorite booksellers?