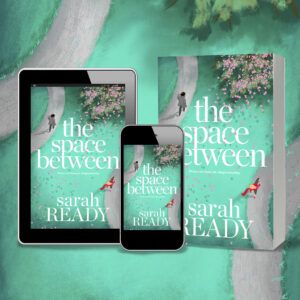 Check out this sneak peak for my upcoming romance book, The Space Between!
The Space Between releases on July 25th, 2023 but is available everywhere for pre-order now. Check out the sneak peak below:
---
HER RED SCARF HANGS DOWN, THE TASSELS BRUSH OVER MY cheek. I stare at her dumbly. Up close, she isn't as perfect as I first thought. Sure, her long thick hair is my favorite color—it's the color of the sweet, reddish-amber honey that I drizzled on the biscuits my mom used to make on Saturday mornings. And her eyes are deep set and dark. They're the rich shade of the butterbrown wood on my (now splintered) guitar. But beyond that, there isn't anything special about her.
Her nose is straight and a bit too long. Her chin has a small dimple, which I've never seen on a girl before. Her cheekbones are high and her face is angular. Her eyebrows fly up in straight, questioning lines. Her top front teeth have a small gap. I guess, though, it's hard to notice that she isn't what you'd consider beautiful, because there's something about her that's arresting. Something that makes it almost impossible to turn away.
I think it's the way she carries herself. Like she knows something. Some secret. And the expression on her face…
"Are you going to answer me?" she asks, her voice a rich husky alto, just like Ella singing "Dream a Little Dream of Me" with Louis.
It shocks me so much that I find I can't answer her.
"Oh no. Are you dying and I'm blocking the light?" She steps aside and gestures at the dull, cloudy sky, a bit of filtered light shining down on us. She frowns at me, "Well?"
I stare at the light playing over her, highlighting the honey color of her hair and the flecks of gold in her eyes.
"You're beautiful."
I blink.
That's not what I meant to say.
The girl tilts her head. "Nope. I'm Andi. Nice to meet you."
She smiles and holds out her hand for me to shake, like we're at a tea party at the Waldorf Astoria and she's in a silk dress and I'm in a three-piece suit. Instead of the reality, where I'm still on the ground covered in blood and bruises, and she's in a baggy cotton dress and a tattered red scarf.
I push myself up and swallow down the nausea as my head spins. The scent of cigarette has left, blown away on the humid breeze. It's replaced by a soft smell, like sun-warmed strawberries and cherry blossoms freshly fallen. I sit in the dirt and take her hand. Her fingers are warm and when she squeezes my hand, it feels, for all the world, like coming home. When I was three, and my dad gave me my Martin, it felt like this too. Like I'd been born to hold it.
"I'm Jace."
She squeezes firmly and shakes my hand. Then leaning close, she frowns.
"Did you know you're bleeding?"
I nod and feel a little woozy when I do. But I push past it.
"It'll be fine."