Want a sneak peek of Married by Sunday, coming March 22nd?
Married by Sunday is book 5 in my Soul Mates in Romeo Romance series and it is hilarious! If you love funny romcom's you have to check out this sneak peek of Married by Sunday!
Click here to pre-order Married by Sunday.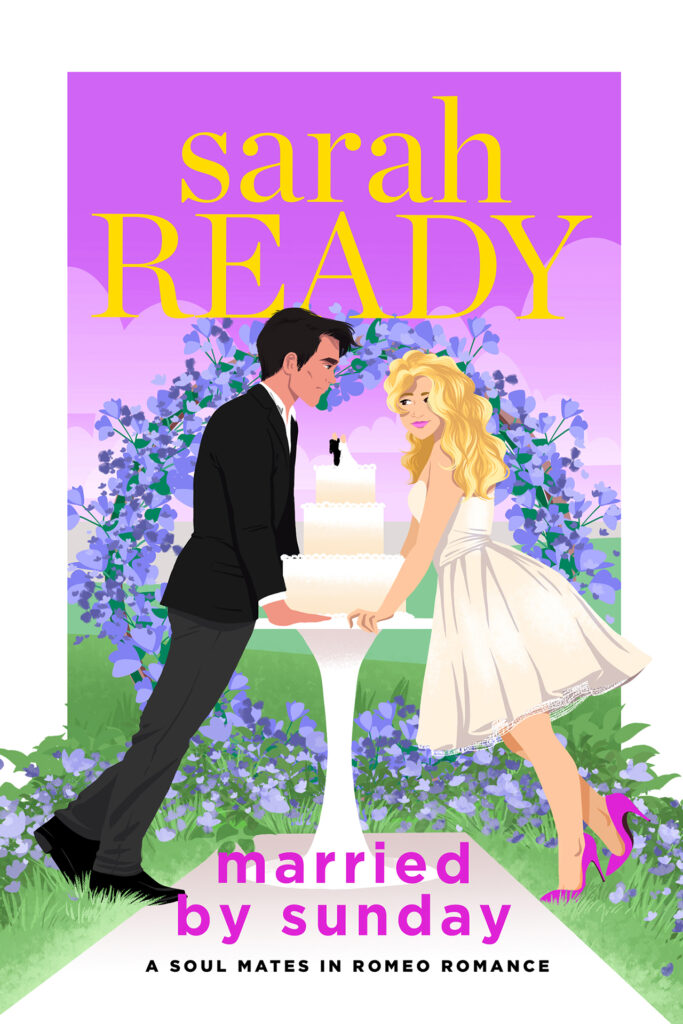 ---
"Excuse me, I think my boyfriend is under your table."
I hold extremely still and crouch in a little ball under the round wooden table. The white tablecloth nearly touches the floor, but I can see the tip of Gertrude's high heels and Raphael's brown wingtips behind her.
"If you don't mind, I'm just going to look."
I close my eyes. How did my life come to this? How did I go from an incredibly successful, well-respected businessman to a disaster covered in cake crouched under a table? It's embarrassing.
I wait for the tablecloth to lift up, but it doesn't.
I move back but the woman at the table kicks me. I grunt and then hold still.
Wait a minute.
I recognize those shoes.
"Don't you dare," a woman with a southern drawl a mile wide says. "My husband is under this table giving me the French tickle, it's our honeymoon, and I always wanted a little tongue bath in public. Ah ah. Back away from the tablecloth, missy."
A grin spreads across my face. She's absurd, she's obscene, she's the best.
I could kiss her.
"If you lift this tablecloth this whole restaurant and all them old ladies will see my hoo-ha. That'll ruin their appetites. Or it'll make 'em jealous. Either way."
"Uh…uh…what?"
"My treasure," Raphael says, "the lady says the man you saw is her husband."
"But…but I swear I saw Nathaniel. I don't know why he's here. I told him not to come," Gertrude says.
"Well, that settles it. You couldn't have seen a Nathaniel. My husband's name is Devon."
I stifle a surprised laugh and Izzy kicks at me again.
"Now, if you'll please excuse us, I'd like to get back to it. We only live once, ya know."
Wow.
She's crazy.
She's perfect.
She rescued me.