Check out this sneak peek of my latest book! No matter how much Nathaniel protests, Izzy knows it was fate that brought them together. Nathaniel's girlfriend just ran off to marry another man, and Izzy swears she'll help Nathaniel win her back…even if it means getting him to laugh.
Married by Sunday is book 5 in my Soul Mates in Romeo Romance series and it's a must read! If you love funny romcom's you have to check out this sneak peek of Married by Sunday!
Click here to order Married by Sunday.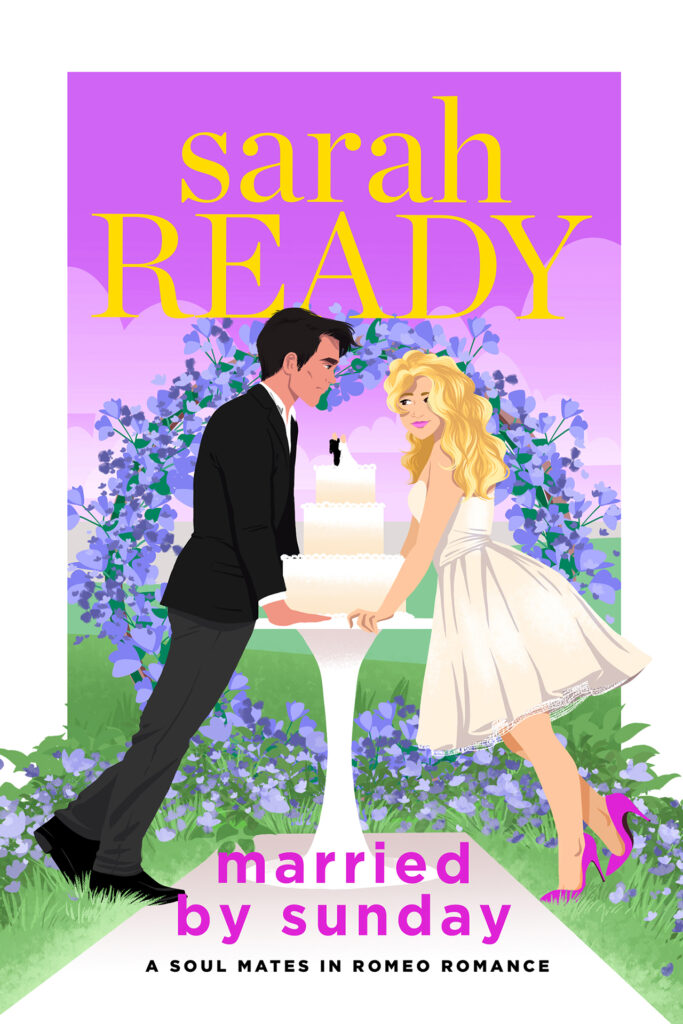 ---
"We start now." I look at Nathaniel and think through the options. Finally I decide on one. "I'm gonna need you to laugh."
"Excuse me?"
I grin. "I know. It's probably been years. Has Gertrude ever heard you laugh?"
His eyes go distant like he's working through the years trying to locate a time when he and Gertrude laughed together. "Sure," he finally says.
"In bed?" I ask, because that would work the best.
"No."
Ugh. "Oh well. So, what you need to do is laugh as if you're in bed together."
"Gertrude doesn't laugh in bed. I don't laugh in bed. Why would anyone laugh in bed?" He looks at me censoriously. Sort of like a principal might. I try not to smile.
"Okay. Well, I'll help you out. I'll give you an example. Picture this." I lean against the hay bale. Nathaniel stands stiffly a few feet away. That's not going work. I stand up and tug on his arm, pulling him to lean beside me. "Relax," I say. After a second he becomes less stiff. I lean into him. The smell of hay surrounds us. "Picture a field. It's early fall, the air is cool, but it's midday so the sun has warmed the grass enough for you to lie down. There are apple trees nearby, the apples are ripe and some of them have fallen, so the air smells crisp and sweet. There are a few farmhouses nearby, but not close enough for anyone to see you."
"What does this have to do with laughing?"
"Shhh." I shush him. "There are some bees droning overhead and a few birds hopping between the apple trees. It's the weekend. You have nowhere to go and nothing to do. Except make love. That's the only thing on your mind. Because your girl is on the soft warm grass beneath you, and her lips taste like Honeycrisp apples and she's looking at you like she wants to taste you too." I lean closer to Nathaniel, caught up in the smell of the hay and the memory of a crisp apple. "So you slowly lift up her skirt, play your fingers over her skin, taste the apple on her mouth. And then, she lifts her half-eaten apple up to you, like Eve in the Garden. You look at the apple and then you look at her, there's a glint in her eye. You lick the apple and then you push inside her, and it feels so good, you feel so happy, that you laugh. You laugh from the joy of it…you…you…" My throat feels tight and painful. I look down and see that my fists are clenched. I slowly, carefully release them.
"I?" Nathaniel says.
I clear my throat and try to push aside the burning, scratchiness that has lodged there.
"You laugh. That's how you laugh." Then more angrily, because he still looks like he doesn't understand, I say, "Just do it."
He shakes his head at me then stands up straight. I push away from the hay bale too and look around it at Gertrude. "Go ahead."
Nathaniel takes a deep breath and then laughs.
Gertrude didn't hear. Thank goodness. I look back at him. "That was terrible. You sounded like an anemic donkey."
He holds up his hands, "I can't laugh on demand."
I purse my lips. "Try again. This time do it loud enough for her to hear. But picture apples and sex and pleasure."
He rolls his shoulders, shakes out his arms, and looks, for all intents and purposes, like he's warming up for a big game. My irritation thaws. Cute. He takes a big breath, then he looks at me. Wow. I take a step back. His eyes are all dark and dripping dream boaty-ness.
"Ready," he says.
"Oookay."
He closes his eyes, lifts his head and laughs. It echoes through the lobby. Little electric tingles rush across my arms and chest. It feels like his laugh is petting me. Goodness.
I stare at him in shock.
Now that's a sexy laugh.
Thank you for reading another sneak peek of Married by Sunday!