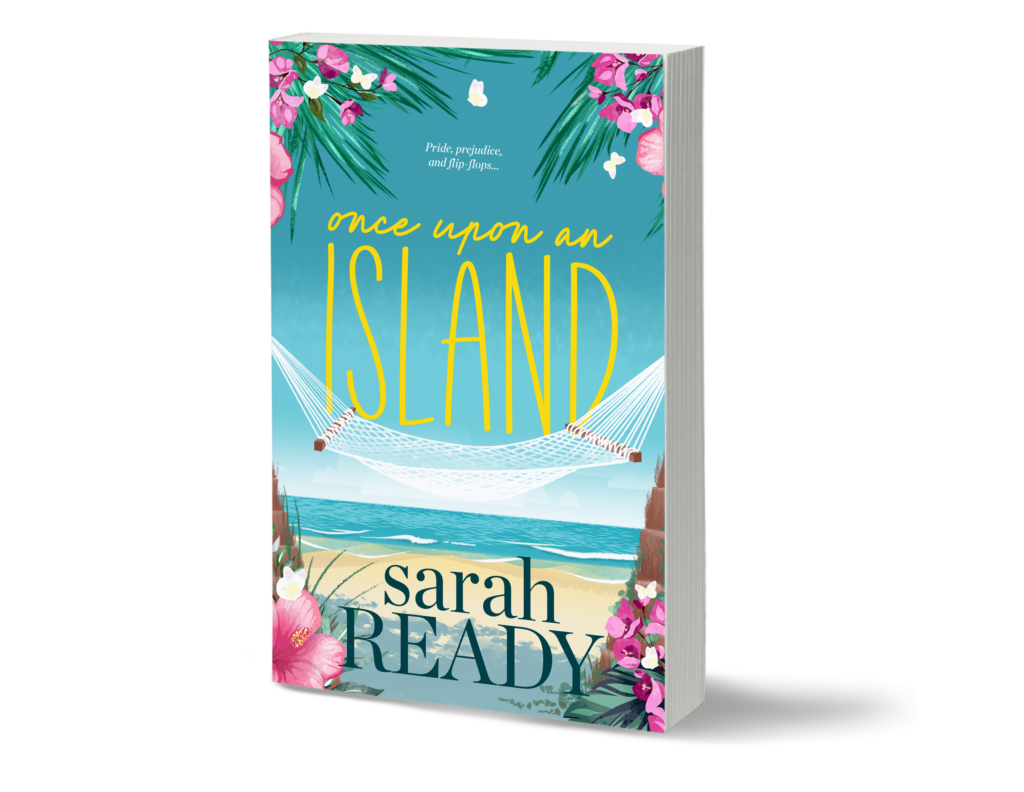 Want sneak peek #3 from my newest book? Once Upon an Island is now available. This stand alone romcom and the perfect summer read. What do you do when the proud and arrogant billionaire turns out to be actually nice? Throw fruit at him of course 🙂
Fun-loving Isla Waterstone loves her laid-back life on Mariposa Island. She has everything she could ever want…a great job as a journalist for the local paper, amazing friends, and pink sand beaches with stunning tropical sunsets. The only problem with tiny tropical islands? There are more sea turtles than single men. So when British billionaire Declan Fox and his aristocratic friend arrive, Isla's friends know this can mean only one thing.
Marriage.
Check out this sneak peek #3 of Once Upon an Island:
---
Sneak peek #3 of Once Upon an Island
"I don't think you're awful anymore. You're only half awful."
I wait for his response, but he turns his face to the side and looks away from me. In the window's reflection I see a small smile curve at the edge of his lips.
Then the taxi pulls up the drive, the headlights shine through the window, and his reflection is wiped away.
"Well. That's the taxi. So. Thanks again."
He nods. "Anytime."
He starts to walk out of the kitchen but pauses at the hall and turns. "Isla?"
"Yes?" Annoyingly my heart beats a little faster.
"Thank you for dinner."
I nod. "You're welcome."
He studies me for a moment, then says, "I'm still not interested."
His words hit my warm, contentment like a glass of ice water. Gah.
"Oh, go away." I grab a clementine from the fruit bowl and chuck it at him.
He's too stunned to dodge. It hits him in the center of the chest then thuds to the ground.
He looks down at it then up at me. He scoffs. "Really?"
"Go on," I say. "You're back to awful. Full awful." I grab for the squishy apricot at the top of the fruit pile and heft it in my hand.
He holds up his hands. "I surrender."
"I should've left you for the sharks," I say. I throw the apricot at him, but this time he's ready. He snatches it from the air and holds it up for me to see.
"Goodnight Isla," he says.
I scowl at him.
Then he lifts the apricot to his mouth and takes a bite. The juice from the fruit runs over his lips and down his chin.
His tongue sweeps out and catches it up.
His eyes don't leave mine. Not the whole time he's licking up the juice of the apricot.
Oh my.
My abdomen clenches in response to the look on his face and my mouth starts to water.
"Goodnight, good riddance," I say, proud that my voice is steady.
"Goodbye, Isla."
He salutes me with the apricot and walks out of my cottage.
---
Did you love this sneak peek of Once Upon an Island?
to find out what happens today!