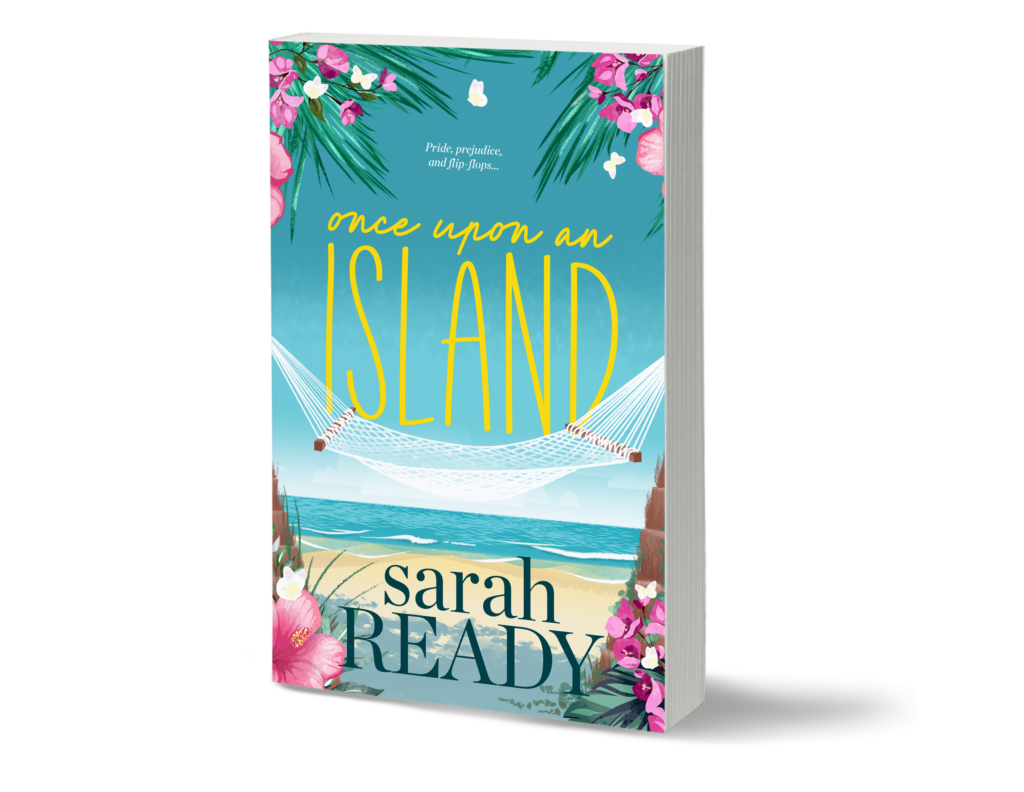 Want sneak peek #2 from my newest book coming out May 24th, 2022? Once Upon an Island is a stand alone romcom and the perfect summer read. What do you do when you find yourself on a small plane with an arrogant billionaire and your motion sickness pills kick in?
Fun-loving Isla Waterstone loves her laid-back life on Mariposa Island. She has everything she could ever want…a great job as a journalist for the local paper, amazing friends, and pink sand beaches with stunning tropical sunsets. The only problem with tiny tropical islands? There are more sea turtles than single men. So when British billionaire Declan Fox and his aristocratic friend arrive, Isla's friends know this can mean only one thing.
Marriage.
Check out this sneak peek #2 of Once Upon an Island:
---
Sneak peek #2 of Once Upon an Island
Jimmy starts the propeller and the noise fills the cabin. Percy and Arya lean closer together to continue their conversation. When Jimmy starts moving the plane forward I close my eyes, but unfortunately, my head spins so much that I have to open them again.
When I do, I notice Declan staring at me.
"Yes?" I ask.
He scowls. "You made a noise."
I probably did. In fact, I imagine it was a noise like "please, oh please, please fly okay."
"I'm fine," I say.
Declan looks down at my hands and makes a disbelieving noise. I look down too. I'm gripping the seats and my knuckles have turned white.
The plane bumps down the runway and my stomach flips with each little bump.
"Are you afraid to fly?" asks Declan. He has a judgy look on his face. "How can you live on an island and be afraid of flying? Don't you have to fly to go anywhere else in the world?"
I glare at him. His people skills are terrible. "I'm not afraid of flying."
He makes another disbelieving noise.
"I'm not," I say.
"Just like you don't eat balls very often," he says. Then he smirks at me.
I gasp and my back goes poker straight. I wasn't one hundred percent sure he remembered me, or recognized me from the Valentine's Day Brunch, but I am now.
"It's none of your business how often I eat balls," I hiss at him. Then I flush. "And I'm talking about chocolate, you…you…man." My insult falls flat. It's hard to be eloquent when you're drugged up and terrified of flying.
"I know what you're up to," he says, and his lip curls in a villain-ish sort of way.
What's he talking about?
"You don't know anything," I say. Because…comebacks.
He shakes his head and looks at me like I'm the larva of a slug. "I heard your friends talking in the terminal. 'Land the white whale. Nab a billionaire. Blah blah blah.' Trust me, La-La. I've had enough gold diggers after me to recognize one from a mile away. I'm not interested."
My mouth drops open and I try to formulate a comeback. Instead, all I manage are little choking noises of outrage. Finally, I say, "I'm not a dold gigger…" I shake my head. That wasn't right. Darn prescription. "Gold digger," I correct.
Declan snorts and turns back to his phone, effectively dismissing me.
However, I'm a person, not a dog he can dismiss or beckon at his convenience. So I lean over and forcefully poke his arm with my pointer finger.
He glances up and gives me an affronted look. "Yes?"
"I'm not a gold digger," I say again.
"Methinks thou protesteth too much."
I shake my fuddled head. "I just want to set the record straight. I wouldn't chase you, lust after you, date you, or marry you, even if you and I were stranded on a deserted island together, or if you were the last man on earth. Billionaire or bankrupt, I don't care. Because I don't like you. Got it? I don't like you."
Declan gives me a tight-lipped smile. "The feeling's mutual," he says. "Now, if you'll excuse me, I have important things to do."
Implying that I'm not important.
Well.
"So do I," I say.
I resist the urge to stick out my tongue.
What a jerk.
I turn away from him, my head spinning. When I look out the little oval window next to my seat, I see with surprise that we're high in the sky, soaring over the azure-colored sea. I was so distracted by Declan that I forgot about my terror over take-off, and my fear of flying.
I look down and make out the white sail of a sailboat, the dark greenish-black smudges of a reef, and a tiny uninhabited island.
I glance over at Declan. It's amazing. It seems that my complete and utter loathing and fear of flying was finally wiped out. I don't need anti-anxiety medication, therapy, or any other tricks. I just need to replace it with an even greater loathing – that of Declan Fox.
I grin gleefully. At that moment he looks up, sees my expression and scowls at me.
Amazing. Wonderful.
"It's not going to work. You're not pretty enough to tempt me. Nor are you eloquent or smart enough. Or friendly enough for that matter. Even when you smile. You can stop trying," he says grumpily.
This makes me smile even more.
He's awful, and that's wonderful.
"You're the worst person I've ever met," I say with the biggest grin on my face.
"And you're the most vulgar, greediest, average-looking gold digger I've ever met."
"Perfect," I say with a smile.
---
Did you love this sneak peek of Once Upon an Island?
to find out what happens May 24th, 2022!