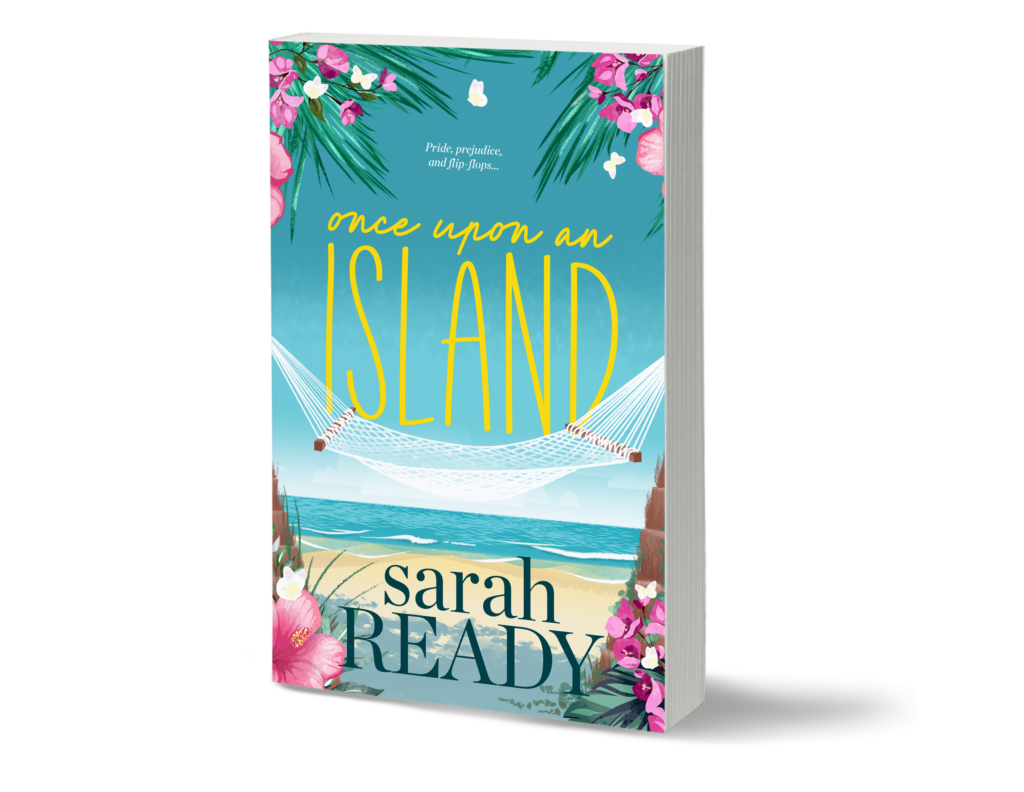 My newest romcom is coming out May 24th, 2022 and I wanted to share a sneak peek of Once Upon an Island with you. Fun-loving Isla Waterstone loves her laid-back life on Mariposa Island. She has everything she could ever want…a great job as a journalist for the local paper, amazing friends, and pink sand beaches with stunning tropical sunsets. The only problem with tiny tropical islands? There are more sea turtles than single men. So when British billionaire Declan Fox and his aristocratic friend arrive, Isla's friends know this can mean only one thing.
Marriage.
Check out this sneak peek of Once Upon an Island:
---
Sneak peek of Once Upon an Island
"I have news," Kate says.
She flags down a waiter and we all grab a glass of champagne.
I shoo away a grackle, the little black birds that opportunistically try to grab food when you're not looking. We don't have any food except chocolate at our table. It hops away across the pink sand.
"What's your news?" I ask, turning back to Kate.
She grins at us and spreads her arms wide. "There's a billionaire on the island." She says the word "billionaire" like you'd say "holy grail."
We stare at her for a moment.
"What does that have to do with us?" asks Renee.
"He's single," Kate says with a great amount of relish.
"And?" I ask.
"And in his thirties."
I sigh. "And?"
"And one of us is going to land him," she ends with a flourish.
I shake my head. Why did I come today? Why didn't I ignore the text and stay lounging in my undies eating buckets of ice cream?
"He probably clips his toenails at the dinner table," Arya says.
We all stare at her, but she just shrugs. "I have a list of all the fatal flaws my boyfriends have had. The automatic breakup flaws. That one is the worst, but it comes up surprisingly often."
"You're too picky," Kate says. "This guy is the white whale of dating and marriage. If he clipped his toenails at the dinner table and then sprinkled them on my food like parmesan cheese gratings I'd still marry him. I want one of us to catch him."
"That's disgusting," I say. "Also, I'm leery of white whales. Didn't Captain Ahab die trying to catch Moby Dick? He died…trying to catch a dick. Think about that."
But Renee has a bigger issue with Kate's statement. "Why do you assume he's looking for a woman? And why do you assume any of us want to get married?"
She has a point. I grab the last truffle ball. These things are delicious.
Kate gives us all a frustrated look. "It is a well-known fact that any single man with millions or billions of dollars desperately wants to get married."
"That's not logical," Arya says.
Kate disagrees. "It's completely logical. Once a man has amassed a fortune, he's bored. Therefore he's driven to get married, so he can then divorce, lose half his money in the divorce settlement and then have the motivation to make more money. Once he's back on top and rich again, he'll look for another wife to give half his money to all over again. It's a cycle. Men like doing this."
I stare at Kate, completely aghast. She takes a long sip of her champagne and gives us all a superior look. "Trust me, I'm British."
I snort into my champagne glass.
Kate continues, "I saved the best news for last. He came with his friend, who also happens to be well-off. My mum called to let me know that Duchy said—"
Duchy is some duchess that Kate's mom is bosom friends with. Kate, despite living in exile on Mariposa Island, is from a top-tier British family.
She was supposed to marry some titled guy, but instead she ran off with a professional jet-skier. Two months later she dumped the jet-skier and wanted to return to England, but her parents had already disowned her. So, she stayed on the island, became a realtor, and continued to make terrible dating decisions. Five years later, her mom talks to her on the phone, but her dad still refuses to acknowledge her existence.
"Duchy said that the billionaire Declan Fox was moving to the island, and his best friend Percy Oliver is coming along for a stay. My cousin went to Cambridge with Percy, he's to inherit some title or other. I don't know." Kate waves it off as a non-issue. "The point is, one of us will land Declan, and another of us will land Percy."
"I'm out," Renee says. She leans back in her chair and shakes her head. "I'm not going to throw away my most productive career years on a man."
Kate looks at me and Arya. "La-La?" she asks me. Technically, my name is Isla, but Kate likes to call me La-La. "Arya? Are you two in?"
"Why would I want to marry a billionaire? Or some stuffy aristocrat?" Arya asks.
"To avoid that matchmaker your mom keeps threatening to foist on you," Kate says.
Arya considers this. Her parents are completely fine with her dating as many men as she likes, however, her mom is getting the grandmother itch, and she keeps threatening to hire a matchmaker. Arya's parents met through a matchmaker, and so did her grandparents, so her mom is gung-ho about bringing Arya onto the matchmaking train.
"Right. I'm in," Arya says.
I give Kate a pained look. "I just don't get the point in chasing after a billionaire and his BFF."
She levels her gaze on me. "La-La, you want to get married someday, right?"
"Sure. Of course I do."
Granted, I haven't dated anyone in three years, but it's not for lack of wanting. Our little Caribbean island has a serious shortage of eligible men.
Back when I was younger, I thought I'd be married by now, maybe have a few kids. But that was when I was a bright-eyed, nubile, early-twenty-something optimist.
Now, I'd love to find the right guy to grow old with, someone kind, and good, and who accepts me exactly as I am. But that guy is surprisingly harder to find than I thought.
Kate claps her hands together. "Great. Since the four of us are going to marry someday—"
"The three of you," Renee says.
Kate shrugs. "We can either choose to steer our boat toward toenail clipping, cereal/soup eaters, or we can navigate our boat towards billionaires. I've had enough dating disasters—"
"Here, here," Arya lifts her champagne glass in a toast.
"I'm tired of steering myself toward relationships that go nowhere. When I was talking to my mum I realized that I'm going to fall in love again someday. But this time, I'm going to only allow myself to fall in love with an incredibly rich man."
Hmmm.
I look around the brunch tent. It's getting rowdy. The champagne's been flowing for more than two hours, the band is now playing a tropical version of Let's Get it On, and some of the couples are cooling off in the calm azure sea water.
There are a few single guys here, most of them are in a group chugging mimosas. The one guy dressed in the tropical shirt that Renee pointed out is still dancing on the table pretending to make cocktails.
"Are you in, La-La?" Kate asks. "We can do this. By the end of the year, two of us will be married. One to a billionaire, the other to his well-off aristo friend. I guarantee it."
I'm a little tipsy from the champagne and the heat. I'm not really looking to land a white whale, but I have to admit, I am looking for someone.
"Alright." There's no harm in agreeing. It's not like we'll actually run into these guys.
---
Did you love this sneak peek of Once Upon an Island?
to find out what happens May 24th, 2022!